Sith Lord

Joined

Dec 10, 2012
Messages

2,940
I'd like to share this with the swfuk community as many of you guys are on facebook and viceversa this guy is a member here....
Jonathan Threadwell
Threaders20 on swfuk
Jontyben2099 on ebay
Follow threaders75 on eBay. Buying, Selling, Collecting on eBay has never been more exciting!
Original post below from Jabbas Court and it appears several freshly scammed people are now coming out the woodwork.
Public announcement
Jonathan Threadwell has been banned for knowing trying to sell reproductions on Jabba's Court and then trying to billsh** his way out of it. He was given multiple chances to prove his mistake but he couldn't because a liar is a liar so he was removed. Shortly after he was removed he blocked most admin and even blocked other members who had recently bought from him forcing one of these members to msg him on his Ebay account. As you can see Jonathan was "very sorry about that" and insisted that because he had been banned from jabba's he no longer had to abide by our "policys". Basically saying ....... I'm taking your money and jabba's can refund you. Now I know many here may have had good transactions with him (buying and selling) but please read the conversation I had with him below.
As you can see from the conversation I've had with him he's just an absolute bellend. This kind of person is the worst. A liar and a cheat!!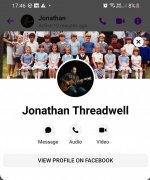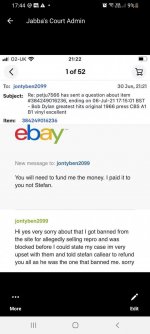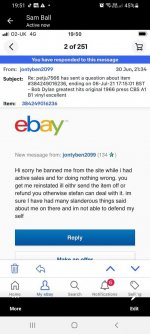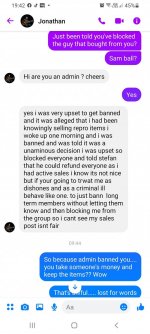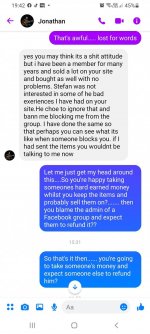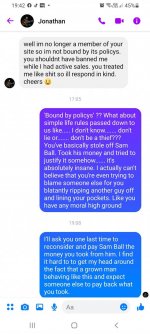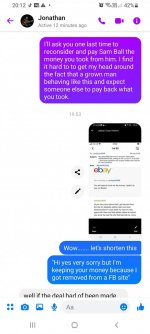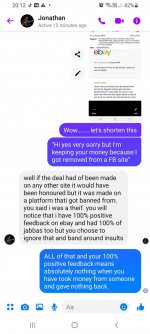 Last edited: